In our luxurious pedicure spa suite our experienced nail technicians provide a full range of services for your feet. Whatever treatment you choose we provide the ultimate tip to toe pampering experience in a relaxing environment.
For an up-to-date price list for all of these treatments, Click Here.
Signature Pristine Pedicure - 90min
A pedicure so good, it's our signature treatment. Settle in for one & a half hours of sheer indulgence, starting with a thorough nail assessment, feet are then dry filed and hard skin is removed, before tired legs and feet are given a luxurious, exfoliating lymphatic massage. Callus remover is applied and feet are wrapped in hot towels while nails are cleansed, soaked and cuticles tamed, before any remaining areas of stubborn hard skin are addressed again. Nails are shaped to perfection, with your choice of polish, finishing with a relaxing, moisturising massage. 90 min.
Indulgence Pedicure - 60min
The classic pedicure meets Aesthetics-style indulgence. Nails are perfectly shaped and buffed, followed by soaking, detailed cuticle trimming, exfoliation, callus removal and conditioning. Add intense moisturising, a relaxing massage and your choice of classic or on-trend polish, and you're ready to put your best foot forward. 60min.
Express Pedicure - 30min
The quickest way to beautiful toes. Nails are shaped and buffed, with light cuticle work and conditioning, followed by your choice of polish. Perfection – in just half an hour. 30min.
File & Finish - 20min
Our fuss-free shape and polish is the fastest way to update your colour. Nails are shaped and buffed, ready for your choice of Essie seasonal colours. 20min.
Calgel Pedicure - 55min
Enjoy long-lasting 21-day nail beauty with a pure gel finish. Nails are shaped and soaked, followed by cuticle work. We'll prepare your nails with a customised base coat and flexible gel, before applying your choice of colour and nourishing cuticle oil to finish. 55min.
Essie Pedicure - 55min
Enjoy a two week, chip-resistant nail/gel finish – We'll start by soaking and shaping your nails, and taming cuticles. Then we'll prepare your nails with a durable base and gel. We finish with your choice of nail gel and nourishing cuticle oil. 45min.
Extras
For guaranteed chip free nails ask for our Essie Gel (15mins) For even longer results ask for our Calgel pedicure (30 mins)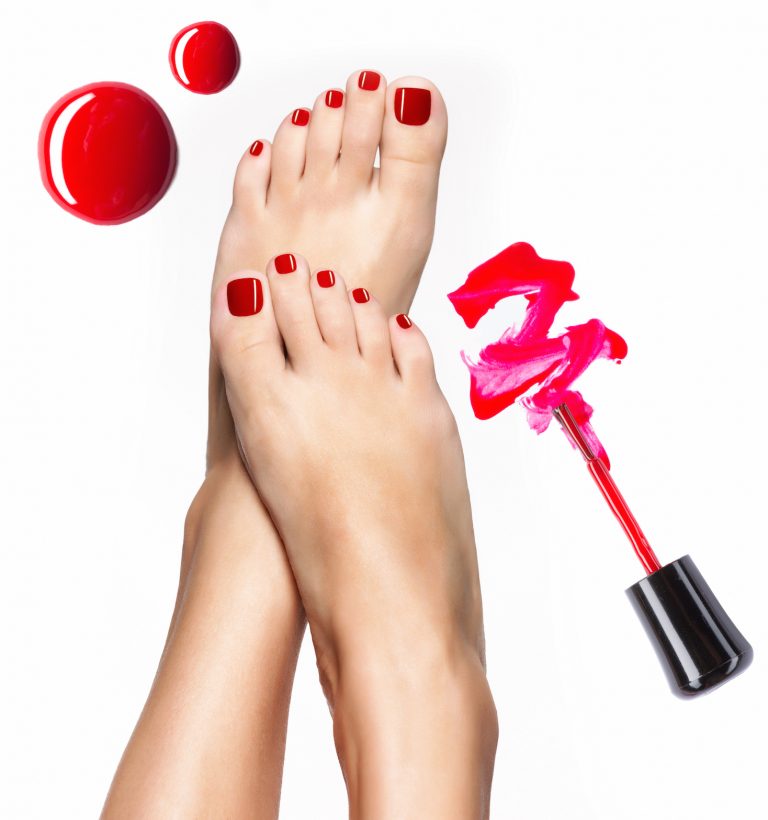 Nail Art
Our Talented Nail Art team can create stunning on trend designs, blending expertise and artistry to give your feet the wow factor. Want even more sparkle and shine? Add gems and glitter (price on application).
Lymphatic Massage for Feet - 30min
An intensely relaxing and nurturing lymphatic massage to improve circulation and reduce cellulite and fluid retention for tired legs and feet. 30min.
Relaxing Massage for Feet - 15min
De-stress the Aesthetics way, with a relaxing massage using apricot kernel oil, with pro-vitamin E to nourish your skin and soothe your muscles. 15min.
Reflexology - 45min
Reflexology is a therapeutic method or alternative medicine of relieving pain by stimulating predefined pressure points on the feet and hands. Health benefits of reflexology include; Increases circulation, improving blood flow throughout the body, cleanses the body of toxins and impurities, boosts immune system, reduces muscle tension, aids digestion and intestinal functions, stimulates nerve functions and increase in energy levels.